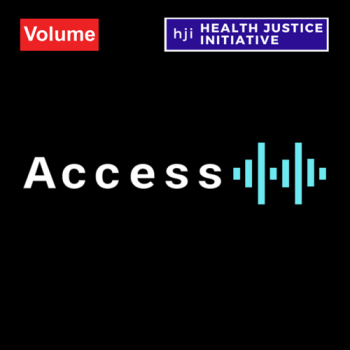 ACCESS is a special podcast series that started in 2020, and looks at the impact of Intellectual Property (IP), specifically patents, on accessing health care, in the context of COVID-19. In each episode we are joined by local and global experts to discuss and make sense of global developments that affect us locally, in South Africa. 
Google Podcasts, Apple, Spotify.
https://www.volume.africa/access
In Episode 1 we discuss medicine access- and the Intellectual Property (IP) barriers that prevent developing countries from accessing life-saving medicines, with reference to previous successes and challenges in the HIV/AIDS access to medicines movement. We also look at how the global patent regime can enable or block access to life-saving testing, vaccines and treatment for Covid-19. In episode 1, we are joined by three long-standing activists for affordable access to medicines: 
Dr Els Torreele, who serves on the HJI's Reference Advisory Group and is a Medical Innovation and Access Activist. She is the former director of MSF's Medicine Access Campaign and writes extensively on patents and access. https://www.project-syndicate.org/columnist/els-torreeleT: @ElsTorreele
Tahir Amin, a lawyer and medicine access activist, and IP specialist, and co-founder / co-director of I-MAK. https://www.i-mak.org/ T: @realtahiramin
Professor Gregg Gonsalves, a longstanding HIV/AIDS activist and epidemiologist at Yale University, and co-director of the Global Health Justice Partnership (GHJP) at Yale. https://law.yale.edu/ghjp@gregggonsalves
In Episode 2 we discuss COVID-19 testing access and the pricing, patent and other barriers that prevent South Africa from ramping up community-wide testing as originally envisaged. We hear from:
Dr Shuaib Manjra, who serves on the HJI's Reference Advisory Group, and is a physician on the front line in Cape Town. T: @ShuaibManjra
Catherine Tomlinson, a freelance health journalist covering the availability, coverage and price in South Africa of testing kits and for Spotlight. https://www.spotlightnsp.co.za/ T: @catherinetom
Candice Sehoma, MSF South Africa Treatment Access Advocacy Officer, MSF- SA is also part of the SA Fix the Patents Law Campaign. https://www.msf.org.za/ T: @CandisiweS
In Episode 3 we discuss the clinical, patent and political obstacles to expand treatment access in a time of COVID-19, looking also at our past struggles for access to life-saving medicines. We look at the most recent clinical landscape, examine patent barriers and their impact on access, and the local and regional political context when trying to manage and treat a pandemic.
On this episode, we are joined by:
In Episode 4 we discuss the 'race' to find a vaccine for COVID-19 – a vaccine that is available to everyone, everywhere, who needs it. Our expert guests consider global and local developments, vaccine trials, and the politics fueling what is being referred to as the COVID-19 'vaccine wars' or 'vaccine nationalism' – which may hinder access over time.
On this episode, we are joined by:


Dr Linda-Gail Bekker, HJI Reference Advisory Group Member, researcher, clinician and public health advocate, COO of the Desmond Tutu HIV Foundation and Director of the Desmond Tutu HIV Centre. T: @LindaGailBekkerhttps://desmondtutuhealthfoundation.org.za/
Priti Krishtel, co-founder and co-director of I-MAK, lawyer and long- standing medicine access activist, and campaigner for justice. She is also a community organiser, and advocate for patients. T: @pritikrishtelhttps://www.i-mak.org/
Safoora Abdool-Karim, a public health lawyer, and senior researcher at Priceless-SA, Aspen New Voices 2020 Fellow. T: @AkSafshttps://pricelesssa.ac.za/
Lukhona Mnguni, political analyst and commentator and PhD intern researcher at the Maurice Webb Race Relations Unit at the University of Kwa-Zulu Natal. T: @LukhonaMnguni